B2B marketing veteran recognized for seventh year running
Walnut Creek, Calif. – December 15, 2017. Howard J. Sewell, president of Spear Marketing Group, a leading B2B demand generation agency, has been named one of the "40 Most Inspiring Leaders in Sales Lead Management" for 2017 by the Sales Lead Management Association (SLMA). It is the seventh year in a row Sewell has been honored by the organization.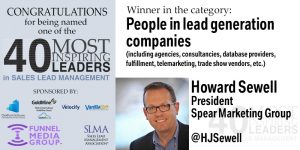 The SLMA endeavors to be the voice of the expanding marketing technology field that manages prospect responses to lead generation programs by B2B and B2C companies. The organization has more than 8,000 worldwide members. Those named to the 2017 "Most Inspiring" list were nominated in one of four categories:
B2B and B2C C-Level Management
B2B and B2C Sales and Marketing Management
Lead Generation Companies
Software and Applications
Sewell was a winner in the "Lead Generation Companies" category.
SLMA CEO, James W. Obermayer, said, "These 42 inspiring leaders (we had a tie in two categories) understand that lead management must be defined before the tools of CRM, marketing automation, business intelligence, and hundreds of software applications can be applied. Many thousands of lead generation agencies and millions of marketing departments must manage sales leads properly to gain revenue in a predictable manner. This is why we recognize our inspiring leaders in this annual election."
Sewell is a B2B marketing and agency veteran who has worked in direct marketing and demand generation for more than 25 years. "I'm honored and humbled to be named to this year's list along with many of the leading voices in our industry," Sewell commented. "Effective lead management is a real-difference maker for B2B marketers, and I'm proud to be part of its continuing evolution."
To see a complete list of this year's "40 Most Inspiring Leaders," click here.
About Spear Marketing Group
Spear Marketing Group is a full-service B2B demand generation agency that helps B2B companies generate, nurture, and convert sales leads to revenue. The firm's unique, holistic approach to demand generation blends strategic expertise, creative flair, and a deep understanding of marketing technology to drive measurable results across every stage of the lead lifecycle. Clients include Concur, Google, and Navicure. For more information, visit www.spearmarketing.com.