Demand generation agency named to the Chief Marketer 200 for 6th year
Walnut Creek, Calif. – December 19, 2022. SSpear Marketing Group, a leading, full-service B2B demand generation agency, has been named to the 2023 Chief Marketer 200 (CM200), an annual list of the best engagement and brand activation agencies in the United States. This is the sixth year in a row that Spear has been named to the CM 200, and the ninth year running that Spear has been recognized as one of the top B2B agencies in the country.
Compiled by Chief Marketer's editors, the Chief Marketer 200 features agencies in 11 different categories. "This year's CM200 represents an agency community made stronger and more resourceful than ever before," says Jessica Heasley, Group Editor & Publisher at Chief Marketer. "We hope that brand marketers will consider the partners on this list for their 2023 programs. They have all demonstrated incredible creativity and resilience and are poised to transform challenges into opportunities in the year ahead."
Winners were selected based on several criteria including insightful client testimonials; outstanding case study submissions; high caliber, consistent work across programs and clients; innovative and creative executions and bold and inspiring concepts and ideas that are moving the industry forward. The complete list of winners can be found on the Chief Marketer website.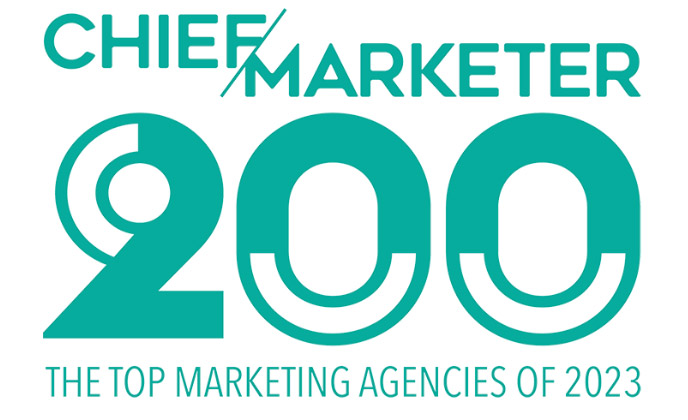 Spear was recognized for a year in which it experienced significant growth, signing more than 30 new clients and adding new staff across the board, including agency veteran Garrett Lawrence as CMO and Court Patton as the firm's new Creative Director.
"I'm incredibly proud to be named to this prestigious list," said Howard J. Sewell, Spear's President. "2022 was a challenging year for any agency, and it's a credit to everyone on the Spear team that we were able to adapt so successfully and deliver the results our clients demanded. We're looking forward to 2023 as another year of growth."
Spear is one of very few B2B agencies to combine demand generation strategy, full-service creative and a deep expertise in marketing technology. Launched in 2009, the firm has evolved to be one of the most recognized agencies in the B2B space. The firm focuses on what it calls a holistic approach to demand generation that takes into account the full lead lifecycle: lead generation, lead nurturing and customer marketing. Areas of expertise include Account-Based Marketing (ABM), digital media, email marketing, and turnkey campaign execution.
About Spear Marketing Group
Spear Marketing Group is a full-service B2B demand generation agency helping B2B companies generate, nurture, and convert sales leads to revenue. The firm's unique, holistic approach to demand generation blends strategic expertise, creative flair, and a deep understanding of marketing technology to drive measurable results across every stage of the lead lifecycle: lead generation, lead nurturing, and customer marketing. Clients include Dropbox, F5 Networks, and RealPage. For more information, visit www.spearmarketing.com.
About Chief Marketer
Global online content portal Chief Marketer, an Access Intelligence brand, arms aspiring CMOs with the tools, insights, data and training they need to master the "next frontier of marketing"—an age of marketing much less dependent on advertising and much more focused on the rest of the branding toolkit. CM has more than 150,000 readers who rely on its content and live events to help them cut through the noise and find the solutions necessary to optimize their performance. From digital, direct and content marketing, to social, experiential, promotion and more, our weekly newsletters and daily website content covers it all. In addition to the CM200, Chief Marketer also produces the PRO Awards, and recognition programs including Market Like a Mother and Future CMOs. Learn more at chiefmarketer.com.