Survey by Spear Marketing Group reports more than three-fourths of marketing departments are understaffed; companies turning to remote workers, contractors, agencies to fill the gaps.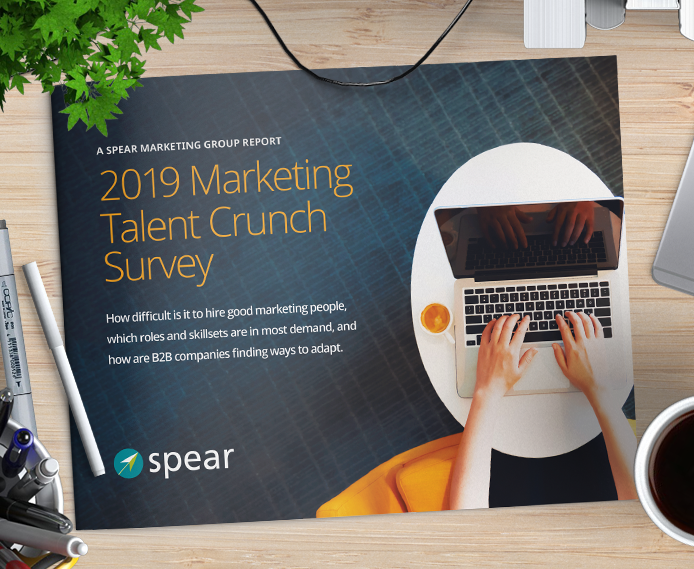 Walnut Creek, Calif. – January 15, 2019.
A recent survey of B2B companies finds that most are struggling to find and hire marketing talent, particularly in technical roles such as marketing operations.  Key findings from the survey, conducted by Spear Marketing Group, a leading B2B demand generation agency, include:
90+ percent of companies are having difficulty finding marketing talent
83 percent of marketing roles take 5+ weeks to fill
Marketing technology is driving the most in-demand roles (ex: marketing operations)
Marketers are adopting a more flexible hiring model to include remote employees and contractors/freelancers/agencies
The survey was conducted by Spear in late 2018 in response to the increased demand it saw for its own agency services as an interim or permanent replacement for full-time marketing hires. "We wanted to know just how much our own experience was reflective of the market as a whole," said Howard J. Sewell, Spear President.  "We were interested (and thought our clients might be, too) in learning just how bad the problem actually is, and what companies are doing to cope."
The survey asked B2B companies a range of questions including:
How long is it taking to find new marketing hires?
What are the skillsets that are most in demand and most difficult to hire for?
How much are marketers adapting their hiring practices, or even abandoning hires in favor of third-party service providers?
Spear has published a comprehensive summary of the survey results, along with its own analysis of the data, in the "2019 Marketing Talent Crunch Survey Report," a 19-page report available as a free download via the Spear Website.
"For the most part, the survey results reaffirmed what we were seeing first-hand in the marketplace," commented Sewell.  "In particular, larger societal trends relating to outsourcing, the gig economy, and remote work were very much in evidence.  One thing is very clear: the Marketing Talent Crunch is real, and companies are having to find creative solutions to solve for it."
About Spear Marketing Group
Spear Marketing Group is a full-service B2B demand generation agency that helps B2B companies generate, nurture, and convert sales leads to revenue. The firm's unique, holistic approach to demand generation blends strategic expertise, creative flair, and a deep understanding of marketing technology to drive measurable results across every stage of the lead lifecycle: lead generation, lead nurturing, and customer marketing. Clients include SAP Concur, GoGo Business Aviation, and Magnitude Software. For more information, visit www.spearmarketing.com.
Download a free copy of "The 2019 Marketing Talent Crunch Survey Report" here.