Leading B2B demand gen agency named to 2021 "Chief Marketer 200"
Walnut Creek, Calif. – December 30, 2020. Spear Marketing Group, a leading full-service B2B demand generation agency, has been named to the 2021 Chief Marketer 200, a comprehensive list of the best engagement and brand activation agencies in the US. It is the seventh year in a row that the firm has been recognized by Chief Marketer as one of the top B2B agencies in the country.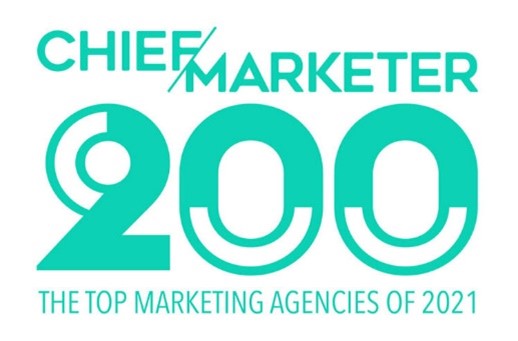 Compiled by Chief Marketer's editors, the Chief Marketer 200 features agencies across 11 different categories, and includes details on each firm, including core capabilities and specializations, examples of outstanding work, insights on culture and people, client examples and RFP contact information. The complete list of winners can be found on ChiefMarketer.com.
Spear was recognized for a year in which, despite the global downtown caused by the COVID pandemic, it still managed to expand its overall business compared to the year prior. It added more than 30 new clients, and as activity picked up in the second half of the year, added key hires in account management, technical production, digital media, and creative services.
"This has been a challenging year for almost any agency," commented Spear President, Howard J. Sewell. "The fact that we were able to not just survive but expand our business in 2021 is a testament to some incredibly hard work across the entire company, and an ability to generate real results for our clients even under tough economic conditions."
Chief Marketer's editors accepted applications from across the country for the CM200 earlier this fall. Winners were selected based on several criteria including client testimonials, consistent, high caliber work across programs and clients, and bold ideas that are moving the industry forward. According to Chief Marketer, "The 200 agencies selected for this year's program are thought leaders in their craft and representative of the best of the marketing industry."
Spear is one of very few B2B agencies to combine demand generation strategy, full-service creative, and a deep expertise in marketing technology. Launched in 2009, the firm has evolved over 10+ years to be one of the most recognized agencies in the B2B space. The firm focuses on what it calls a holistic approach to demand generation that takes into account the full lead lifecycle: lead generation, lead nurturing, and customer marketing. Areas of expertise include Account-Based Marketing (ABM), digital media, email marketing, and turnkey campaign execution.
About Spear Marketing Group
Spear Marketing Group is a full-service B2B demand generation agency helping B2B companies generate, nurture, and convert sales leads to revenue. The firm's unique, holistic approach to demand generation blends strategic expertise, creative flair, and a deep understanding of marketing technology to drive measurable results across every stage of the lead lifecycle: lead generation, lead nurturing, and customer marketing. Clients include Dropbox, Magnitude Software, and Vertafore. For more information, visit www.spearmarketing.com.
About Chief Marketer
Global online content portal Chief Marketer, an Access Intelligence brand, arms aspiring CMOs with the tools, insights, data and training they need to master the "next frontier of marketing"—an age of marketing much less dependent on advertising and much more focused on the rest of the branding toolkit. CM has more than 150,000 readers who rely on its content and live events to help them cut through the noise and find the solutions necessary to optimize their performance. From digital, direct and content marketing, to social, experiential, promotion and more, our weekly newsletters and daily website content covers it all. In addition to the CM200, Chief Marketer also produces the PRO Awards, and recognition programs including Market Like a Mother and Future CMOs. Learn more at chiefmarketer.com.