Leading B2B demand gen agency joins an exclusive list of 10 certified partners worldwide
Walnut Creek, Calif. – November 3, 2021.  Spear Marketing Group, a leading full-service B2B demand generation agency, was named a Certified Drift Solutions Partner, one of only 10 firms worldwide to achieve the exclusive designation.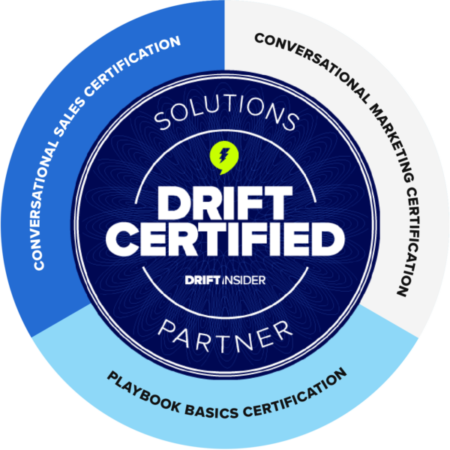 Working with the Drift Revenue Acceleration Platform, Spear helps B2B clients create compelling creative, content, strategies and campaigns that reach ideal customer profiles, align with buyer journeys, and improve revenue outcomes.  The firm's demand specialists help companies leverage the power of Drift to drive qualified leads, pipeline and revenue by:
improving Web conversions

increasing sales engagement and meeting rates

boosting penetration into target accounts

accelerating lead conversion and shortening sales cycles

improving ROI from existing digital campaigns like SEM and social ads
"As a full-service agency, Spear does more than help companies get up and running with Drift," commented Tom Meriam, Spear's Vice President of Business Development.  "Our unique combination of strategic expertise, technical know-how, and creative savvy ensures that Drift customers achieve the highest possible return on their investment."
Spear operates a dedicated Drift practice, with a broad range of services that include workflow/ playbook design, copywriting and strategy, integrating Drift playbooks into existing digital initiatives (e.g. SEM, ABM, Lead Nurturing), and custom bot design.  To become a Certified Solutions Partner, the firm completed a series of certifications focused on helping Drift customers maximize their success with the platform.
"Spear has been a valued Drift partner from the beginning," commented Bennett Boucher, Senior Channel Account Manager at Drift.  "Not only are they fully versed in Conversational Marketing, but their extensive demand generation expertise makes them an ideal choice for companies looking to apply the benefits of Drift technology throughout the entire lead lifecycle."
About Spear Marketing Group
Spear Marketing Group is a full-service B2B demand generation agency helping B2B companies generate, nurture, and convert sales leads to revenue. The firm's unique, holistic approach to demand generation blends strategic expertise, creative flair, and a deep understanding of marketing technology to drive measurable results across every stage of the lead lifecycle: lead generation, lead nurturing, and customer marketing. Clients include Dropbox, RealPage, and Tricentis. For more information, visit www.spearmarketing.com.
About Drift
Drift® is the leader in Conversational Commerce for B2B, making business buying frictionless, more enjoyable and more human. Drift combines Conversational Marketing and Conversational Sales into a single platform that integrates chat, email, video and artificial intelligence (AI) to power the right conversations at the right time between buyers and sellers. More than 50,000 customers use Drift to deliver a unified customer experience that builds trust and accelerates revenue. Representing less than 1% of unicorns led by Latino founders, Drift is building an equitable, enduring company to transform the way businesses buy from businesses. For more information, visit www.drift.com and follow @drift.